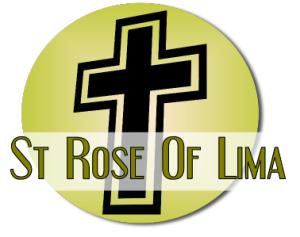 Please update the  Parish App on Google Play and in the Apple App Store. Just search St Rose of Lima. We currently have over 800 Parishioners using it. Thanks for downloading it.
Office Hours  – The office will open at 10am to 4:00pm Monday through Thursday. No Office Hours on Friday.
OUR FACEBOOK ADDRESS – Here you can find up to the minute news and happenings at the church. To visit the page visit the link below or find our "Like us on Facebook" page on our websites home page. https://www.facebook.com/saintroseoflimaparish
LEGION OF MARY – Anyone interested in joining the Legion of Mary, please contact the St. Rose of Lima Office.  Meetings are Thursday at 11:30 a.m. in the Church Hall.
2023 Liturgical Calendar – is now open for mass intentions.  Please contact the Church Office at 610-876-6170 to reserve Masses.
CONFESSIONS – Confessions: Tuesday Evenings beginning September 5th, 7 to 7:30pm – Saturday afternoon, once the confessional is finished, 3:30 to 4:15pm
ALTAR SERVERS – If your children are interested in becoming altar servers, please contact the Church Office.
EMAIL ADDRESSES – We are requesting emails from our parishioners & visitors. It is necessary to have your email to send you updates, information and notices. Please fill out the information at the bottom and place it in the collection basket or in our mailbox. We appreciate your cooperation.
FOOD FOR THOSE IN NEED – Will be collected the first weekend of each month.  Please help those in need by bringing non-perishable food & place it in the vestibule.