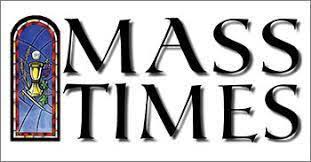 MASS SCHEDULE DURING YELLOW PHASE AS OF JUNE, 6TH 2020
SATURDAY VIGIL
4:00 PM – LIVESTREAM AND RECORDED
SUNDAYS:
10:15 PM
12:00 PM
ALL MASSES VIA LIVE STREAM
4PM LIVE STREAM RECORDED FOR FUTURE VIEWING FOR YOUR CONVENIENCE.
***DAILY MASS WILL BEGIN ON TUESDAY JUNE 9, 2020. THE CHURCH WILL BE CLOSED AFTER MASS TO SANITIZE. ***
***MASS SCHEDULE (GREEN PHASE) EFFECTIVE JULY 11th, 2020***
SATURDAY VIGIL
4:00 PM – LIVESTREAM AND RECORDED
6 PM – LIVESTREAM
SUNDAY
7:30, 10:15, 12 PM AND 5:30 PM
ALL MASSES LIVESTREAMED EXCEPT 7:30
The GREEN PHASE schedule is our REGULAR MASS SCHEDULE.
DAILY MASS WILL CONTINUE AS USUAL!
GUIDELINE HIGHLIGHTS
Parking Lot Entrance Only.
Limited Seating Masks Required.
Sanitizing Procedure After Each Liturgy.
Social Distancing.
Communion in the Hand.
No Congregating After Mass.
Confession Procedures
EFFECTIVE WEDNESDAY JUNE 10TH
THESE GUIDELINES INSURE PROPER DISTANCING AND PRIVACY.
THANK YOU FOR YOUR COOPERATION.
CONFESSIONS BEGIN PROMPTLY AT 7 PM – ENTRANCE FROM PARKING LOT ONLY
MASKS MUST BE WORN IN CHURCH
WAITING AREA IS IN THE PARKING LOT
RECEIVE THE SACRAMENT IN THE ORDER THAT EACH PERSON HAS ARRIVED.
FIRST PERSON ENTERS CHURCH AND LEAVES NOTIFYING NEXT PERSON IN AREA PARKING LOT TO ENTER CHURCH
LAST PERSON NOTIFIES PRIEST LINE IS COMPLETED
CONFESSIONS END WITH LAST PERSON