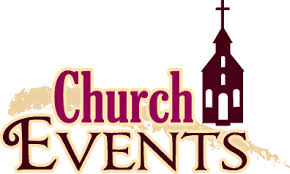 ST. ROSE OF LIMA CALENDAR OF UP COMING EVENTS OF 2021
BINGO! Starting Tuesday Sept 14th at 5:30 and every other Tues evening in the parish hall. Cost $1.00 a card or $5.00 for 6 cards with $.50 a game. Light refreshments will be served for a fee. Call 610-876-6170 or 610-874-4593.
On Saturday September 18th and Sunday 19th the second collection will be for the people of Haiti.
Recollection & Confession for all the Lectors and Eucharist ministers on Monday October 4th, from 5pm to 7pm in the Church. Rev. Fr. Tony will lead them. Please come and receive the blessing of God. 
GOODBYE DINNER FOR FR. TONY! On Saturday Oct. 9th at4.30 pm to 6.30 pm in the hall call office for reservations 610-876-6170 limited space available.
COLUMBUS DAY CELEBRATION BRUNCH on Sunday OCT. 10th 11:30 am to 3.00 pm. Italian Food $ 5.00 P/Adult, $3.00 P/Child, call for reservations 610-876-6170.
FLEA MARKET on Saturday Oct. 23rd in parish parking lot 9am to 3pm. $10.00 a table or 1 car per family. Food and drink will be available to buy, donations to sell for the Church are welcome.
CASINO TRIPS to Atlantic City begin on Monday Oct. 25th, $25 p/p you get $15 back. The bus leaves the parking lot promptly at 9am and returns at 6pm. Call for reservations 610-874-4593 & 610-876-6170 parish office.
VETERANS, BREAKFAST AND LUNCHEON on Sunday Nov.7th 8am to 2pm. FREE to all parishioners who are veterans or active members of the armed forces. Call for reservations 610-876-6170.
Thanksgiving Brunch on Sunday November 21, 2021, from 10 am to 1.30 pm. All are welcome to attend.
CHRISTMAS CAROL & TABLEAU on Wednesday December 22, 2021, from 3.00 pm to 5.30 pm in the Church. There will be refreshment. All are welcome to celebrate Christmas.