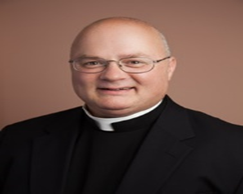 Greetings from Father Izzo
Happily, I am arrived to St. Rose's Parish
On Monday, June 20, the Clerical Changes announced by the Archbishop were made effective, and now, happily, I call St. Rose's my new home. Father Dominic and I met late morning and we had lunch together before he departed for Maternity B.V.M. in Northeast Philadelphia. I thanked him for his ministry here and wished him well in his new assignment. I am coming to you from St. Vincent de Paul Parish in Richboro, Bucks County. I was assigned there 22 months ago to assist an elderly pastor, who also retired this month. Fr. McLaughlin served there for 29 years, and hopefully, will now enjoy his retirement. I ask that you keep him in your prayers, and well as me, and all the other priests around the Archdiocese who have begun new assignments this past week.
Thank you for the warm welcome to me a few weeks ago at the 10:15 Mass on Pentecost Sunday, and I am grateful for your welcome of me today. Please look for me after Mass, where I will be happy to meet you. I will be present at all the Masses this weekend to briefly introduce myself to you. Don't worry, I learned the Three B's of Public Speaking: Be Brilliant, Be Brief, Be Seated. Seriously, I look forward to meeting you, and getting to know you as I begin my ministry here to and for you.
I had a busy first week: moving in, a sick call on my first day, plus a follow-up visit, and my first funeral this past week. I like to be busy, and so far, St. Rose has kept me on my toes. I hosted an informal combined meeting with the Parish Pastoral and Finance Councils on Thursday in the Rectory. I am happy to provide some details of the meeting (after it occurs, since I am writing this before the fact). I thank the Parish Staff, who were a great help to me during this week.
Lastly, the hardest thing about moving is that there are some many "new" things to learn. It is somewhat easy as a priest because a lot of what we priests do is fixed by the Church. But in parish life, I have learned in my 24 years as a priest, that every parish has its own identity and way of doing things…which is now what I have to study and learn from you. Please be patient with me as I begin my new course here at St. Rose.
June is the Month of the Sacred Heart
Since my receiving this appointment, I have prayed for the parish and parishioners of St. Rose thru the specific intercession of the Sacred Heart of Jesus, the Blessed Mother, and to St. Rose herself. To highlight in a special way, the Sacred Heart, I share this prayer which I often say: in the morning, "Sacred Heart of Jesus, all is for Thee." In the afternoon, "Most Sacred Heart of Jesus, I place my trust in Thee." In the evenings, "Most Sacred Heart of Jesus, have mercy upon me."