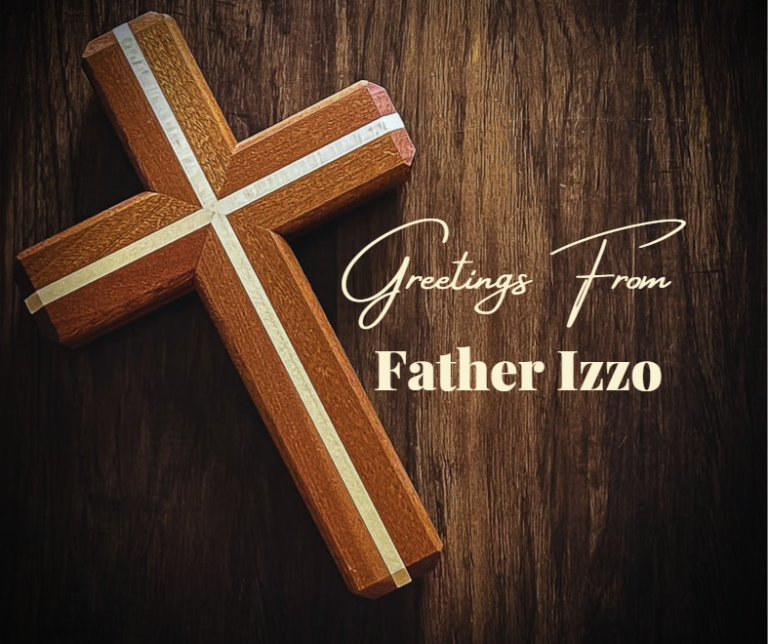 Greetings from Father Izzo
Thank You Sister Catherine Jane McErlean, I.H.M. for 32 Years of Exceptional Service to St. Rose Parish
I know that I speak on behalf of the entire Parish, to offer our prayers, best wishes and heart-felt gratitude for the service and ministry of Sr. Katie to our parish for the past 32 years. I hope that you saw the article in the Delaware County Times last week, highlighting Sister Katie. I'm glad she reluctantly agreed to meet with the editor. (We know that Sister doesn't like to be the center of attention).
Today, however, she has to be just that—the center of attention. Our gathering around the Lord's Altar today gives us the perfect opportunity to thank Him for the wonderful life and person of Sr. Katie. Sister has given of herself, faithful to her religious vows, and she has also received much from you, the faithful of St. Rose. You let her have the opportunity to teach your children the faith, to be consoled by her prayers when she visited with Holy Communion, or when she would meet with families who lost a loved one. These things, and much more, Sister Katie did with complete dedication and with a thoughtfulness of a Religious Sister to care simply for the other!
I quoted the Delaware County Times last week, and allow me to repeat here: "Every parish has their own unique tradition unto themselves, which makes them special from their neighbors. That is certainly true about St. Rose's, and for a variety of reasons. The top reason why St. Rose is special in the minds and hearts of her parishioners is Sr. Katie! Without a doubt she is the number one reason why people have a fondness for our parish. Sister has given so much of herself to this parish for the past 32 years that she has become a part of the tradition of our parish. I will find it difficult, if not impossible, to replace her here."
Bishop McIntyre will Install Me Pastor on Sunday, June 25 at Noon. Parish Picnic Afterwards, Hopefully on the Parish Lawn
When I received my appointment as Pastor, the letter from the Archbishop instructed me to call the Regional Bishop as soon as possible. spoke with the Bishop McIntyre after the Holy Day last week, and I told him that St. Rose's has been too long without a Pastor—almost 3 years since Fr. Al died. I told him I didn't want to wait to become the next Pastor "officially." So, hopefully you'll be around on June 25 and will come for the Installation.
After the Mass, Zac's hamburgers will be here with a food truck to cater the Parish Picnic. We are planning a lawn party, with tables, chairs and umbrellas on the front lawn. So, pray for good weather.
 If you know your schedule, please call to RSPV, so we can give a count for the food truck. The menu from Zac's is: a hot dog, a hamburger and french fries. No charge, however, you will need a food truck ticket, which will be provided when you RSVP.
Adjusted Office Hours for the Month of June
While I begin looking for another part-time secretary to work the morning shift, I am adapting the office hours for the month of June.
Monday -Thursday: Morning Hours 10 to Noon
Monday – Thursday: Afternoon Hours Noon to 4
No Office Hours on Friday
Rev. Brian A. Izzo
St. Rose of Lima, Eddystone, PA.